Product Announcement: USR® Introduces Gigabit Aggregation TAPs for Quick Troubleshooting now with USB Monitoring

Affordable Visibility for Single or Dual Interface Monitoring Solutions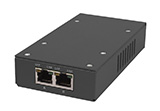 USR's USR4524-MINI Portable Gigabit Ethernet Aggregation TAP with USB Monitoring
LONDON, England – May 25, 2021 – USR®, a division of UNICOM® Global and leading provider of M2M (Machine-To-Machine) connectivity devices, today announced the new line of Ethernet & Fiber TAPs (Test Access Points) including the USR4524 Gigabit Ethernet Aggregation TAP and USR4524-MINI Portable Gigabit Ethernet Aggregation TAP both with USB monitoring.
Network TAPs are hardware devices typically inserted between highly targeted network devices such as firewalls, routers, or switches without affecting the flow of traffic. The TAP makes a copy of the data flowing through it and sends the packet copies to attached network appliances or tools typically used for monitoring or recording activity. The Portable Gigabit Ethernet TAP is used for on-the-go test monitoring due to its small and compact size, specifically designed for field engineer troubleshooting.
"Monitoring network traffic is crucial for network stability and preventing hackers from accessing sensitive data," said Richard Murphy EMEA Sales Manager for USR. "By adding USB monitoring TAPs to our TAP family we expand the capabilities of field engineers to easily access data packets at any access point using just a laptop with a SuperSpeed USB port that can also power the TAP, "said Barry Taylor Global Sales Manager for USR.
"
By adding USB monitoring TAPs to our TAP family we expand the capabilities of field engineers to easily access data packets at any access point using just a laptop"
All USR Aggregation TAPs combine two streams of full-duplex network data together into a single output stream allowing single-port tools to monitor full-duplex communications. With two Ethernet output monitoring ports, the USR4523 Gigabit Ethernet Aggregation TAP can create duplicate copies of the combined data that can be sent to multiple tools to monitor the same network traffic. With only the flip of a switch on the back of the TAP it can switch to two additional modes allowing it to regenerate a single flow of data out to three separate tools or function in breakout mode to provide single streams of data. Non-aggregated deployments support applications that require visibility of every packet of each direction of traffic to allow monitoring at full-line rate. The USR4523 is the most versatile TAP in the USR lineup and replaces the previous USR4503 and USR4504 in one device.
The USB Portable Gigabit Ethernet Aggregation TAP provides a full-duplex copy of 1G traffic for a total of 2G from a single link. The USB output form factor easily connects to a laptop running Windows, Linux, or MacOS or USB monitoring device and is powered over USB 3 or through the VersaPower AC Power Supply (available separately). The TAP has a durable steel case but is lightweight and compact with two RJ45 network ports and one USB 3.0 monitoring port making it ideal for troubleshooting 10M/100M/1G access points, routers, IoT devices, ATMs, POS systems at difficult locations.
AVAILABILITY
The MSRP ex Vat for USR4523 and USR4524 is £769,90, the USR4524-MINI is £719,90 and the USR4525 and USR4526 Fiber TAPs are £539,90. The MSRP ex Vat for the optional USR4522-RMK 4-unit Rackmount Kit is £91,90 and USR4520-ACC VersaPower TAP AC Power Supply is £39,90.
All are currently available to order from authorized distributors and reseller partners. All USR network TAPs come with a two-year, limited manufacturer's warranty from the date of purchase.
---
Sales Contacts:
EMEA
Richard Murphy, USR EMEA Sales Manager
+33 (0)129 387 2316
Richard_Murphy@usr.com
North America Barry Taylor, USR Global Sales Manager
770-218-1040
Barry_Taylor@usr.com

About USR www.usr.com
For more than four decades, millions of businesses and consumers have relied on USRobotics for dependable Internet access. Today, USR endeavors to continue the longstanding tradition of supporting successful businesses by providing equipment for data transfer, remote management, broadband backup, point-of-sale, and machine-to-machine functions. USR strives to support the latest technologies through the development of new tools, which are known for their mobility, convenience, and reliability. USR products are designed for multiple environments, including data centers, remote networks, embedded solutions, and small-to medium-sized business markets. USR is a division of Unicom Global
About UNICOM® Global www.unicomglobal.com
UNICOM Global consists of more than thirty-seven (37) corporate entities encompassing a wide range of businesses across all geographic regions. With its corporate headquarters in Los Angeles, California, to offices in Illinois, Kentucky, Massachusetts, Maryland, Minnesota, New Hampshire, North Carolina, New Jersey, Texas and Virginia, throughout EMEA in the UK, Ireland, Germany, France, Italy, Spain, Belgium, Switzerland and the UAE, and across Asia/Pacific with locations in India, Australia, Singapore, Korea, Thailand, Taiwan and the Philippines. UNICOM Global offers deep in-house resources and flexible IT solutions to our partners worldwide. UNICOM Global focuses on acquiring and integrating mature and growing mid-cap NASDAQ, London Stock Exchange AIM and German publically-traded companies in technology, financing, IT, real estate, and business services. Please visit our websites for additional information about the services, products and solutions that UNICOM Global offers:
For more information, visit the company Web site at www.usr.com or follow USRobotics on social networking sites, including Linked In, Facebook and Twitter .
For media information:
USRobotics
richard_murphy@usr.com


Copyright© 2022 U.S. Robotics Corporation, a Division of UNICOM Global. All rights reserved. U.S. Robotics, and USRobotics are registered trademarks of U.S. Robotics Corporation. Other brand names and product names are for identification purposes only and may be trademarks or registered trademarks of their respective companies.